Traffic and road obstacles are inevitable when traveling by car. From the swift turn to avoid a pothole to the sudden stop required to avoid a collision, road maneuvering is part of driving. While we may congratulate ourselves on avoiding these road obstacles untouched, sometimes interior items get scattered about.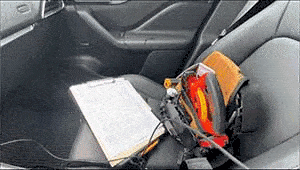 The work bag sitting on the front passenger seat evolved into a car desk. Admittedly, Both store papers similarly when the workbag was buckled upright however, having to pull out a clipboard to lay on top of the bag or on the side never worked well.
The main reason for this business purchase was seeing the reaction of a homeowner when peering into my car. On a job, a homeowner had insisted on walking back to my car after completing the appraisal inspection. While it was nice to have a conversation with her during the inspection, I hoped the interaction would end at the door. She had so many questions so it felt impolite to cut the conversation short. As I was placing items in my car, I could see the homeowner's eyes widen to the amount of papers on the front seat. It was a total disarray of papers that were scattered about in the front seat of the car along with my lunch. The homeowner didn't have to say anything. The simple facial expression said it all. After that moment, there was a need to be filled and the car desk organizer filled that void.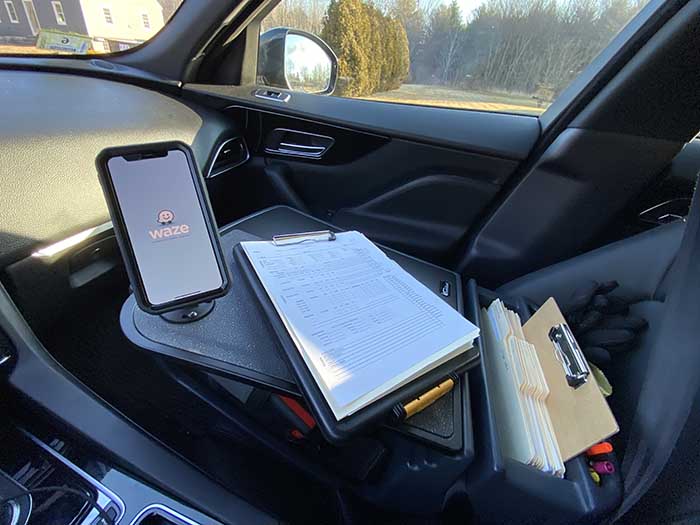 Contractors, inspectors, salesmen, realtors, assessors, real estate appraisers or any employee requiring fieldwork or commuting can relate to having the interior of their car be tossed around while on the road. Traffic is definitely a frustration that we can't necessarily control, but we can mitigate having items being flung about the interior with a car desk / organizer.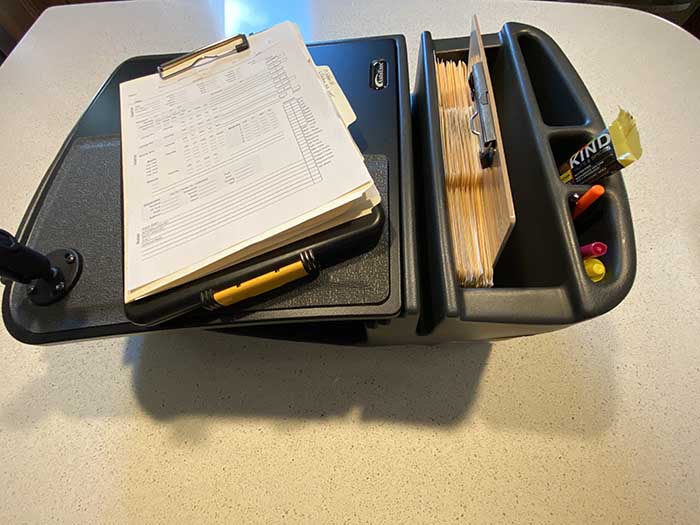 Car desks are more than simple desks these days. It isn't a stretch to call these products 'Mobile Workstations' or 'Car Organizers'. If you are an individual who attempts to cater their driving to avoid the shuffling of items within your car, then consider how effective a car desk can be. Not including the professional element to it, they simply work and help keep your items put while on the road.
As an appraiser, we often need to use paper maps, or copies of MLS listings of properties. These are staple items found in most appraiser vehicles. This mobile desk has essentially become the mobile workstation. With the increased organization and the how the items are secured, road safety has improved as well as the professional appeal. Taking a tight turn was no longer a fear of having my items be flung about. Eating a quick snack within the car was more manageable. This isn't a recommendation to move your whole life into your car but just acknowledging that as commuters we need to make the best of our road experience.
AutoExec is a favored product. Their car desk offers an assortment of options ranging from a phone mount, tablet mount to even a printer mount. They far exceed the basic tray for your car. AutoExec has options for power so that you can plug in your laptop and printer and truly have a mobile office. Are you an appraiser that takes their laptop or tablet on the road and needs a print out? Well, with a mobile hotspot, a satellite appraisal office can be made in your vehicle with ease. An appraiser's style can vary. Some appraisers may find use in using their laptop and print an MLS sheet out on the road while many will find use in a simple organizer, work tray and a tablet or phone mount to keep their work affects secure.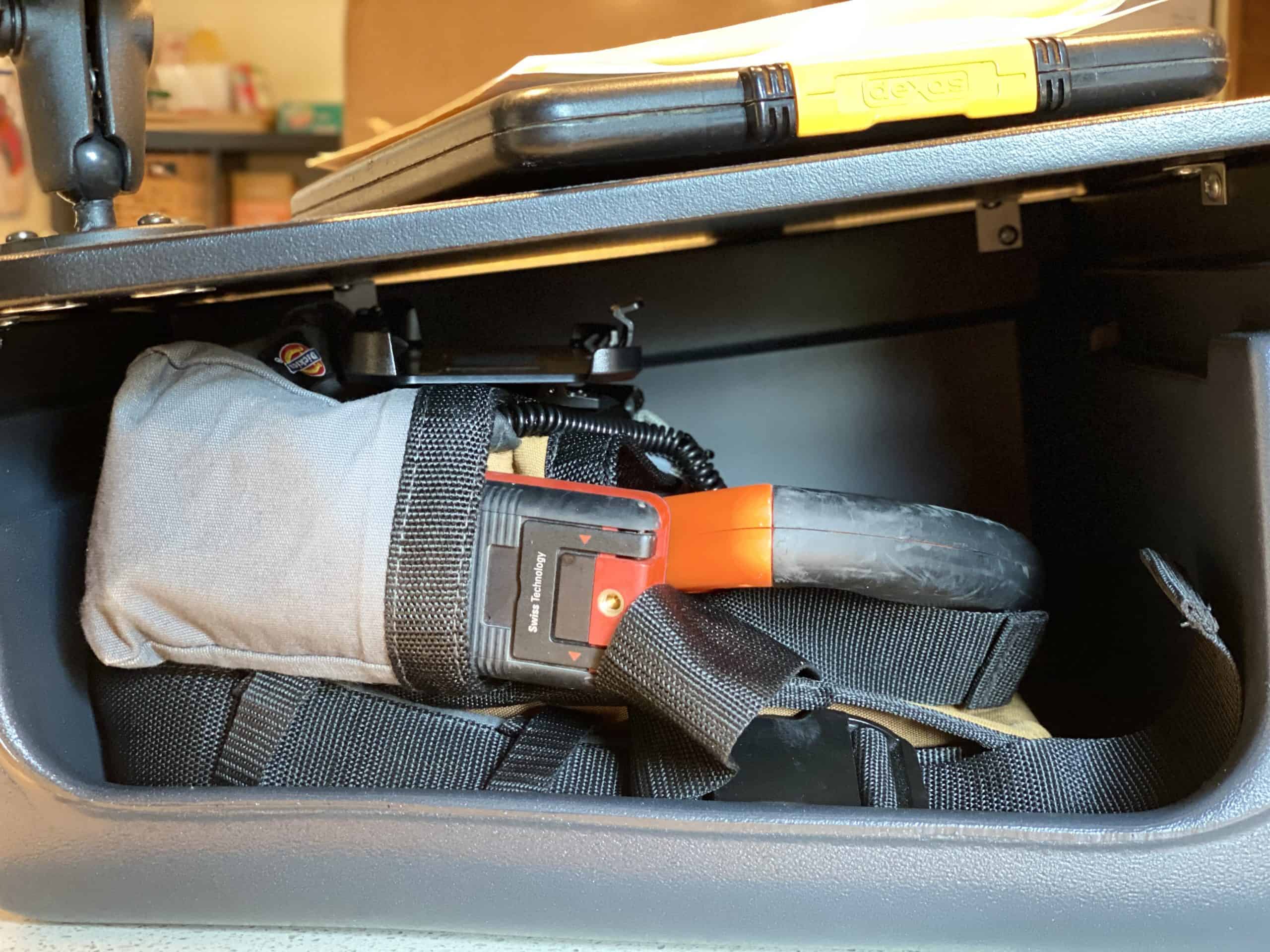 The bottom line is AutoExec's take on car trays provide the most elegant appeal for a workstation on the go. If you are a business owner or simply someone that does a good amount of hours of car travel, AutoExec's mobile car desk can be simplified to these words, Effective, Elegant and Ridiculously useful. The main drawback to these car desks is having to stow it away in the event of a passenger traveling alongside you, however with their seat belt slot, the install and removal is fast and simple. Relocating it to a rear seat takes a minute
While AutoExec is a high end solution providing all the accoutrements for a mobile office, consider some of the other trays available:
This post may contain Amazon affiliate links that may lead to referral compensation at no cost to you