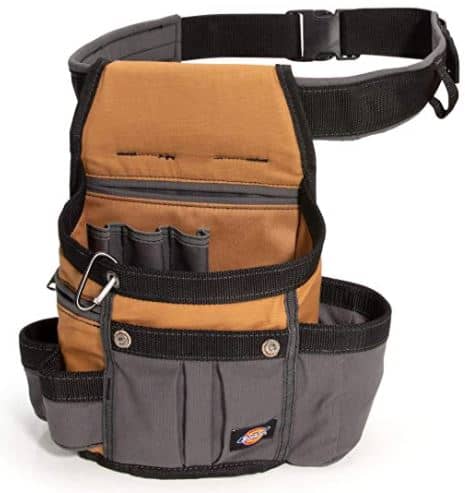 Best Pouch for Laser Measures
You might have spent a small fortune on a laser measure for your appraisal inspections. Leica products (while worth the price) can easily set you back a few hundred dollars therefore losing or damaging this tool is not an option. Laser measuring is an integral part of the home inspection process for appraisers. As an appraiser, there has to be quick access to the laser measure. It should also be stowed properly as you travel throughout the property. Dropping or misplacing a laser measure is something that needs to be avoided at all cost.
Solution:
To secure a laser measure on you while allowing for ease of access and to ensure it will not be misplaced or fall, the appraiser needs two items.
Open Tool Pouch: Having a tool pouch with a slot that fits the laser measure creates an ease of use and allows for a quick and secure stowing of the laser measure. The Dickies tool pouch is ideal and can aide in carrying a myriad of items that are needed to complete a field inspection. In the image, a tape measure and the laser are carried to show its versatility.
Coiled Tethers: Coiled Tethers allow for you to attach your valuable laser measure and secure the tool to your pouch. This allows for two things, avoid misplacing the laser measure and avoid damaging the laser measure. The coil tether should be sized to your height so that at its maximum, if the laser measure is dropped, it will not hit the ground.
With using a coiled tethered system to the utility belt, a laser measure can be secured and easily accessed. It is great insurance for your investment made on the measuring device. If the tool pouch has too much of an industrious appeal for your work attire, at a minimum, tethering the laser measure to yourself should be a practice appraisers implement on field inspections. It only takes one time to misplace the laser measure. The regret and the added cost of buying another one is not worth the agony. Tethers are inexpensive. Don't let a tool be left behind – be professional.