The Appraiser's Tool Belt Essentials

Please read our post on the types of appraiser personas. There will provide some clarity to the information below. 
Every appraiser should always be equipped with tools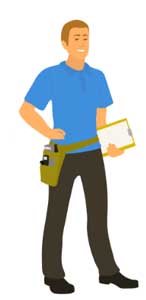 as they work a property. How the appraiser decides to carry the tools inevitably is up to them. The goal below is to avoid having the appraiser to make a trip to the car or fumble around for the tool they need. Time on inspection is money. It's important that the focus is in building a tool belt that provides all essential tools that completes the scope of the inspection.
First thing is to choose a toolbelt. An appraiser toolbelt  can help pick the most appropriate utility belt. This area is intended for the items that should be within your tool belt / utility belt:
Appraiser Tool Belt Item List – Top 20 items:
Laser measure: The best laser measure for appraisers

is a guide that will help find the laser measure that works best for your needs. It's important to realize that your value is based on size and this is the most relied upon tool. 

Tape measure: Stated above, the most relied upon tool is your measuring device. Why is a tape measure the second most important tool in the tool belt? It is rare, but there are times that the tape measure will provide a measurement that may be easier to complete using physical tape than a laser. Through reviews of appraisers, there also seems to be a weaning period from the tape measure when going to a laser. Having this on hand will help build trust in the laser measuring device as well as always having a trusty backup. 
Camera: This can be for the 'clipboard appraiser' or simply as a backup to mobile appraising. 
Business Card Case: One of the first things appraisers do when arriving to a property is identifying themselves. Having business cards on hand keeps the inspection process rolling while maintaining a professional persona. 
Flashlight: Simply a versatile, compact flashlight with high lumens foots the bill for most jobs. 
Pens: Most pens will do but if you conduct inspections in cold weather see our guide on the best pens for cold weather. 
Mint/Gum: It's never a good sign if someone is offering you a mint. Remember, always take a mint, if offered however, be the one offering the mints instead. It's nice to have on hand. 
Angle ruler: Skip the protractor. This is a very simple and compact tool that easily assists with angles. 
Monocle/Binoculars: We recommend a basic monocle but binoculars are options as well. 
Infrared Thermometer: Easy test to check for utilities. This tool will also provide proof of utilities being on at the time of inspection (sometimes I will take a photo of the thermometer reading). 
Phone Holster / Clip: avoid clipping to your pants. A phone clip is far easier to handle on the toolbelt. 
Laser target: Compact enough to carry and helps when there's limited targeting for measurements. 
GFCI tester: If you are checking for ground fault circuit interrupters, you may as well confirm their functionality. 
Compact Screwdriver: screwdrivers have a dual serving purpose. There are times they are useful to use on site for a random need but more importantly, they can be provided as a "stake" in the ground. If you're using tape measuring, pinning your tape to the ground can help complete a home measurement. Check out our post on how to measure with a house with a tape measure.
Gloves: cold weather appraisers and real estate professionals that operate an iPad / tablet or iPhone/Android should have a pair that works with their device. 
Shoe covers: Entering someone's home with professionalism. Do you have mismatching socks, stinky feet or holes in the socks? Avoid it all and simply cover up the shoes. We've reviewed the best prices online for disposable

and

reusable shoe covers.
Personal Alarm: there are plenty of debates as to how to protect yourself on an inspection. Let's face it. Some properties (especially bank owned) can be scary to inspect alone. It's always sound advice to have some defense item or at the very least an alarm to let others know of the danger. 
Face Mask or Dust Mask: If the listing says anything about mold or even a simply moist basement can warrant the use of a face mask. They take little space to carry and always great to have on hand. Now with COVID-19 concerns, this is a part of the inspection. Having one on hand to ease the homeowner is always a plus. 
Battery backup: Both a battery bank for your electronic device and batteries for your flashlight and or camera. 
Poncho: It wasn't supposed to rain but there it is. Don't leave an inspection on a wet note. 
Those are the 20 recommended items for an appraiser tool belt. Yes, all can fit! Even a  rain poncho is very small when unused. Please see our guide on the best clipboard for fieldwork and inspections.