Best Measuring Tape For Appraisers
What is the best measuring tape for Real Estate Appraisers? Assuming laser measuring isn't your preference, this serves as a guide to choosing the best tape measuring tool for appraisers. 

To avoid being lambasted on the topic, let's preface by saying many appraisers have many styles. Working with several appraisers during my time as a trainee and as a certified residential appraiser, one thing can be said and that there is no standard. Preference in this category wildly varies and the intent here is to suggest the best tape measure for your field inspections.
Pros: Measuring tape is a staple appraiser tool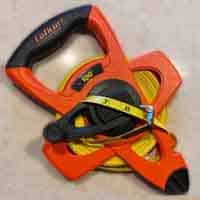 and can be one of the most satisfying measuring tools you may have as an appraiser. Why is it satisfying? Consider you are measuring with a laser or with a wheel, the tape provides that "physical" proof to affirm a distance or measurement. Often, the main reason for selecting a measuring tape is for that reason alone – the idea that we can visually confirm a distance can be gratifying when there is any sort of discrepancy. 
Measuring tape we find to be a great secondary measuring device (backup for a laser measure). It is something you should carry on hand. Consider your market, it's likely most measurements won't exceed 100 ft so when making the purchase, you'll likely purchase a 50 foot or 100 foot measuring tape. The Lufkin 1/2″ 100 ft open reel fiberglass tape measure is the editors top choice for a few reasons:
Extremely Rugged (Fiberglass tape that doesn't snap)
Very Dirt Friendly (snag-free)
Hi-Viz coloring
Tough End Teeth
Very Affordable
Lightweight
Tenths markings which is ideal for sketching
Any open reel tape measure is made for appraising however the Lufkin is a great price and can be carried within the tool belt or your utility pouch.
Cons: Because most appraisers are out on inspections alone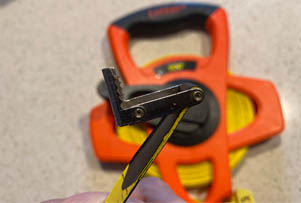 , they quickly find what works well for them. The measuring tape requires being hooked on an edge of a wall with tension or an object (we recommend using a screwdriver in the ground when nothing can be hooked or when landscaping is in the way). So to measure a distance alone, hooking the tape to the side of a house while keeping it taut is the art you develop but can be a headache at time. 
Especially going over long distances, often there can be slack in the tape, which throws the measurement off. Nevertheless, because the tape will be dragged across the ground and through all sorts of weather, a fiberglass tape measure that is open reel is a necessity. Trust me, using a metal tape will eventually have buildup and kinks in the metal which essentially destroy the tape.
This post may contain Amazon affiliate links that may lead to referral compensation at no cost to you