How To Get An Appraiser License
Perhaps you know an appraiser or your intrigue in becoming an appraiser is from researching the job description. One of the great perks is to get an appraiser license does not require a four year college degree. Technically, the whole process can be done in three steps. At a high level view these are the steps needed.  You can take the entry level course work required by your state to satisfy the the requirements for a trainee license and you are step 1 in getting your real estate appraiser's license. Now in step 2 you'll need to have a supervisor take you on as a trainee (apprentice) and complete the state minimum hours of work experience no sooner than the state mandates (most states require 2 years). Step 3 is to take and pass the state exam. That's it – you're licensed!
Take the trainee coursework
Work at least the minimum required work experience hours required by your state.
Pass the state exam for real estate licensure
Now to be honest, this is a high level view and a very  simplified version of the whole process.
If you are not yet aware, there are four levels of licensure for real estate appraising:
Trainee Licensure
State Licensure
Certified Residential
Certified General
Lets begin with the state trainee license for real estate appraising. Above is a very reductive outline for becoming a real estate appraiser. If your goal simply how to get an appraiser license then you need to consider how far you wish to go within this career path. Do you intend on valuing complex or commercial properties? If you have even the slightest of interest in doing either then the question may not be "how to get an appraisers license" but "how to become a certified general appraiser". This is jumping ahead though. It is however important to consider what your ultimate goal is and to know the stipulations between licensure and certification.
Trainee Licensure
The trainee license for real estate appraising requires very minimal coursework. Essentially you will be required to complete a total of 75 hours of introductory appraisal courses that include the three courses below:
Complete and pass 75 hours of basic appraisal education, which includes three courses:
15-hour Universal Standards of Professional Appraisal Practice (USPAP)   15 hours
Basic Appraisal Principles   30 hours
Basic Appraisal Procedures  30 hours
While you will want to check with your state, most states do not require an exam after completing these courses. The courses provide a good foundation for what appraisers do and lay out a good introduction to basic appraiser methodologies. Once you have completed the coursework, typically a state filing fee, an application from an individual over the age of 18 with proof of the completed courses is enough to get the trainee (apprentice) license.
By far the most difficult task however in becoming a real estate appraiser is being able to secure a supervisor. States now require appraisers to take a supervisor course so this immediately limits the number of appraisers who can take you in as a trainee. The state may also employ a maximum number of trainees one appraiser can have (typically 3).
Nepotism is very prevalent in appraising. You may have a family member who is an appraiser and can relate to this entirely. Why is nepotism so prevalent in real estate appraising? For one, many family members enjoy the career and may help their family start and cultivate a career path. Another reason is training under a supervisor can be a tough start.
Considering that a trainee will be learning the process, supervisor appraisers' have to slowdown their production initially to train the prospective trainee on the processes and methodologies needed to complete the work. It will initially cost them time and consequently, the trainee pay is low. Inevitably, trainees do become more productive and the investing in their education pays off however, because a supervisor will be signing most reports ("to the right" as appraisers say – their name is usually always on the right hand side of the trainee), the liability is a concern for the supervisor. They do have some exposure when training an individual. So while a trainee will become competent in completing assignments, the supervisor will always have to review the work as their license will have liability on trainee reports.
Many appraisers do not want to experience this potential liability and for that reason they are reluctant to take on a trainee. More importantly, the concern of you leaving to become instant competition is usually the most common concern for appraisers. The best way to finding a supervisor appraiser is to be upfront about your goals for your career. Most appraiser's need help and the supervisor/trainee relationship can be mutually beneficial if there is intent for the trainee to stay as a staff appraiser after licensure/certification.
Trainees need to realize that while it may seem like a great idea to leave after obtaining the certification or licensure, the learning experience is invaluable after being licensed or certified. Likely as a trainee, you were given "bunny" assignments (a term my old supervisor gave simple assignments). Taking on bunny orders allows the supervisor to work on the challenging orders while building the trainees work experience and providing a little boost in confidence  . You may be short sighted to leaving after licensure. Most clients require a certain number of years of licensure / certification prior to joining their panels so it may be beneficial to continue working with your supervisor and or other appraisers.  Because there is a wide gamut of work available, you will realize that you have so much more to learn and licensure / certification in ways is truly just the beginning.
The Appraisal Foundation provides a more detailed outline for licensure. In the end, if you are serious in becoming a real estate appraiser, perhaps the very first thing you should do is seek a supervisor and express your career goals. Expressing that initiative to appraisers in the area will give you a good idea as to whether it would be a good idea to begin taking the trainee coursework. If you are already lined up with a supervisor then the hardest part is done. Focus on learning and completing those work experience hours and maintain a great work log and before you know it, licensure / certification will be right around the corner.
State Licensed Appraiser Requirements
Your working as a trainee now and you are deciding on how to proceed, state licensed appraiser or certified appraiser? Depending on your college background, you may be limited in your ability to achieve certification. While Certified Residential is similar to State Licensure for Real Estate Appraising, there are limits to the transactional value you can complete. According to Foundation, a state licensed real estate appraiser can appraise non-complex one to four family residential units having a transaction value less than one million dollars ($1,000,000). You can also complete complex one to four family residential units having a transaction value less than two hundred fifty thousand dollars ($250,000) and other types of real property having a transaction value less than two hundred fifty thousand dollars ($250,000) .
State licensure however requires 150 hours of additional education and a total of 1,000 work hour experience in no fewer than 6 months. You will want to contact your state board for an approved course list from education firms throughout the area. The Appraisal Subcommittee (ASC) provides a directory for each state. You will want to check out this list to confirm which courses are state approved. The following are required:

Certified Residential Appraiser Requirements
If you have a bachelor degree then it's highly advisable that you add the extra work experience and coursework to obtain the certified residential designation. Certification required 200 hours of  coursework (see below) as well as 1,500 work hours of experience in no fewer than 12 months.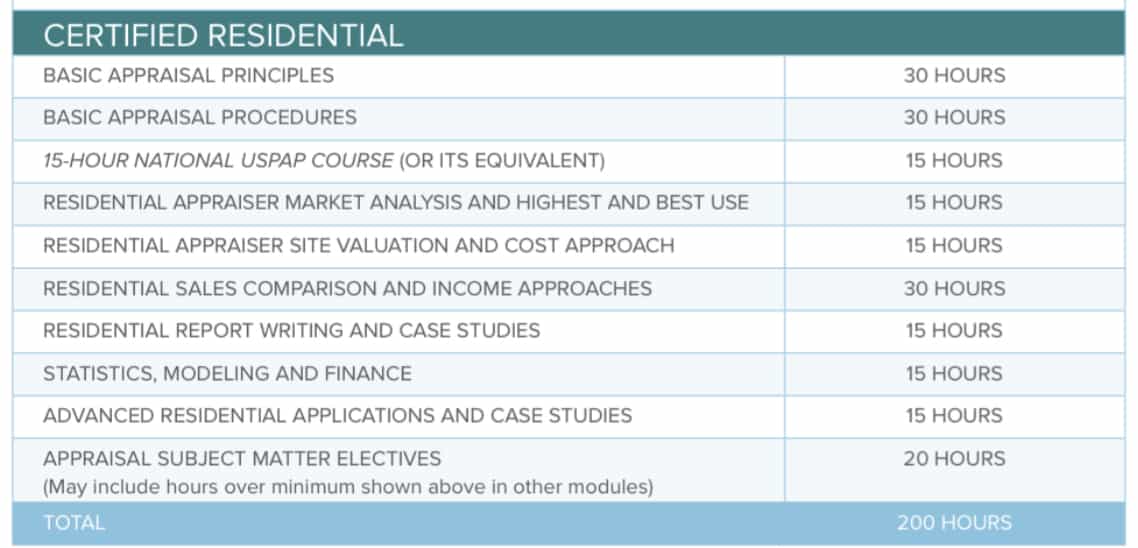 While the limits mentioned above may not seem like it will inhibit your capabilities of completing appraisals, some clients have their own set of standards and often require certification to join their panel. It is highly recommended this be the minimum goal when choosing a career in real estate appraising.
Certified General Appraiser Requirements
This certification is the holy grail in real estate appraising. There are no limits to the licensure and allow for both commercial and residential properties to be appraised. There is an extremely limited supply of Certified General Appraisers. Considering that even fewer are supervisors, it really minimizes the ability to obtain work experience for this certification.
This certification requires 3,000 hours of work experience of which 1,500 hours has to be non residential work. This also cannot be completed any sooner than 18 months and requires 300 hours of coursework: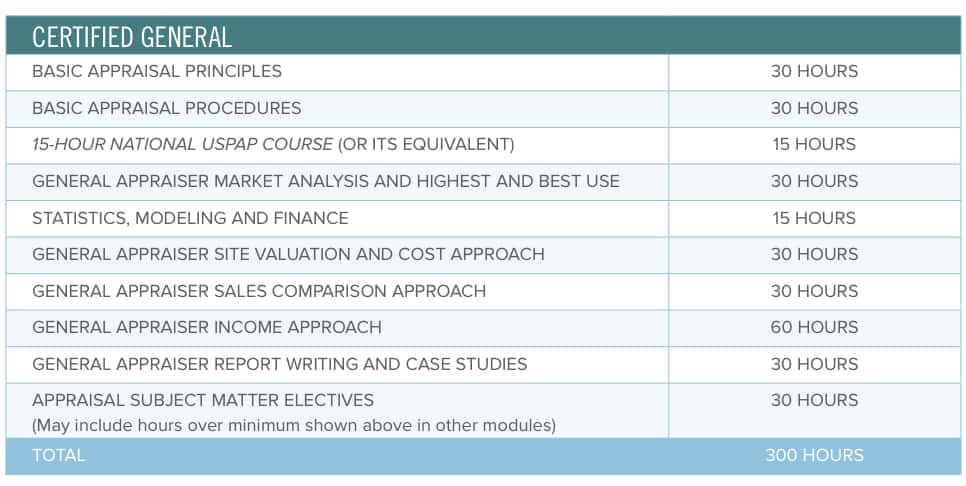 Another note worth mentioning is that sometimes the courses are limited due to the limited amount of potential candidates for certification therefore the course availability is limited. Again, you will want to check out the ASC to see what courses are approved. If you have a supervisor in hand then this is a path you should consider. Considering the limited amount or CG Appraisers as well as the median age, the job security outlook is good.
All state licensure and certification paths require you pass an examination. Check out our post on the best way to pass your appraiser exam.