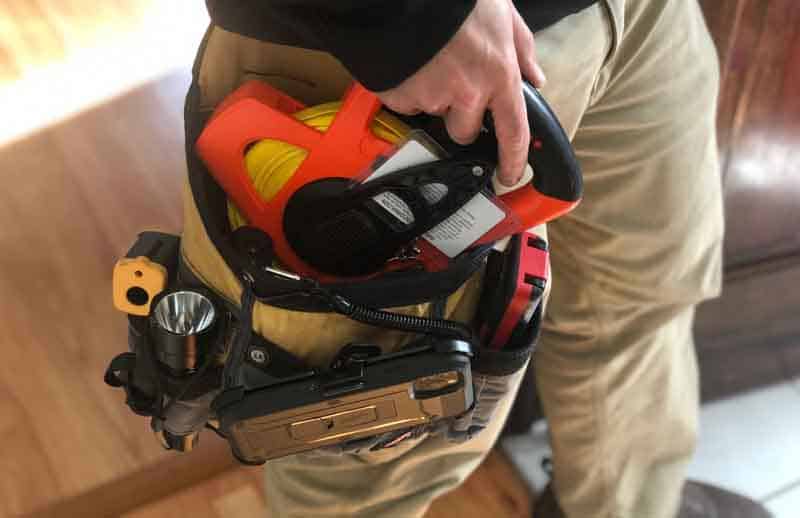 Having Tools For the Trade

A tool belt or pouch is essential for appraising real estate. Appraisers often are seen with a standard clipboard and casual attire. Some either carry a laser  or tape measure but in the end they have a similar look. It is not common to see an appraiser with a tool belt for appraising real estate. This is a standard we employ that differentiates us in our market.  Having our trainee and appraisers utilize a tool pouch has been a time saver when it comes to inspecting properties. While it is considered fairly unconventional, the added utility of having all tools on hand to complete the task makes for a speedy and efficient home inspection.
Why Should Appraisers Utilize A Tool Belt?
Most appraisers are missing the mark here. While an laptop bag or an office briefcase is definitely a needed item to have, this remains in the car. It usually is good to have a laptop on the road, but carrying this type of bag into a property is too cumbersome.  Utilizing a more sleek utility pouch allowing you to carry just the essentials, allows for your hands to be free on inspection while having access to the tools of the trade. We curated a list of items to carry in the tool belt. From your smartphone to some spare PPE (personal protective equipment), an appraiser should be prepared for the inspection. Check out our list on what appraisers should be carrying on inspection.
What is the Best Tool Belt For Appraisers
This comes to preference however the key in this recommendation is accessibility. You want a utility pouch or belt that has open areas or ease of access. Do not be concerned with the opened areas. For expensive items, appraisers tether the item to the belt so that it never gets left behind.